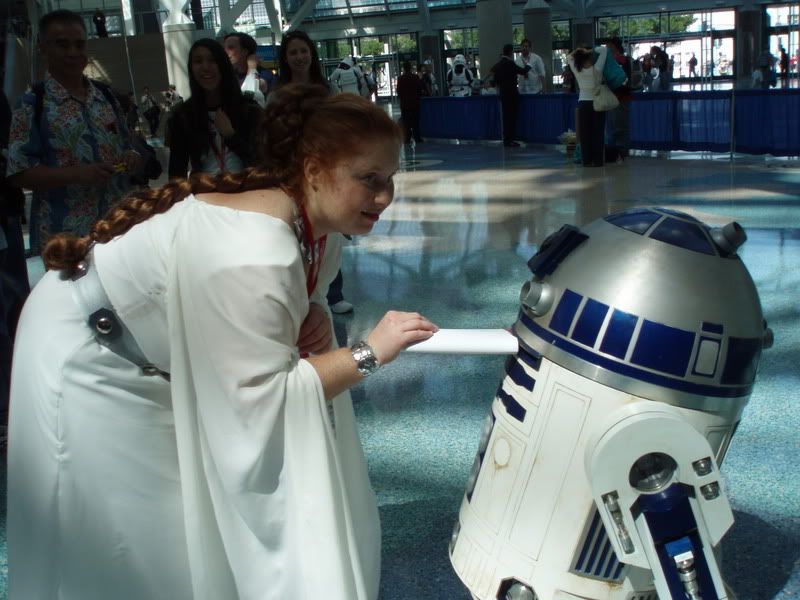 So this is how Democracy dies...with thunderous applause.
Padme, ROTS
I was going to write this entry yesterday, but I could not completely form my thoughts at such a late hour. Yesterday, May 23, 2012, officially marked the end of an era...an era of discussion and debate about our beloved saga; an era of fun times and good friends; an era of memories. Sometime yesterday afternoon/evening, the blogs at starwars.com became no more. They were there in the morning and then they were gone...sent to the netherworld of the Force (aka cyberspace). It was truly a sad day for those of us who were once active members of the blogging community. This weekend also marks the five year anniversary of Star Wars Celebration IV...the weekend of all weekends.
Upon discovering the finality of the blogosphere, I could not help but think of that scene in Episode III where Padme and the other Senators of the Republic listened as Palpatine declared an end to the Republic and the birth of the Empire. The shock and sadness on her face said it all as she said "
So this is how Democracy dies...with thunderous applause.
" The life she once knew was no more...the Dark times were upon them. As the night went on, she realized that her husband and father of her child(ren) had become a part of the "Emperor's" new plans...that he had joined the Dark Side. Things were changing rapidly for her and she did not know how to adjust to the times.
Now, unlike Padme's situation, we, the bloggers, had plenty of warning about the looming shut down. Those of us who maintained active blogs on the site at one time or another had received e-mail notification that the end was near. However, this did not make it any less painful for us, as the community had meant so much to so many of us. Many of us formed friendships there that influenced many parts of our lives. Some of these friendships have grown, while some have faded. Whatever the reason or season for the friendhips formed, they all served a purpose...and they all had a common foundation in Star Wars. While I admit that many of the friendships I had formed in my time on the blogs have not continued, I cannot forget all of the good times we all had...from dinners with friends to Star Wars themed sleep overs and parties to traveling across the country for conventions or other gatherings. The memories of these times will last forever.
As I close this entry, I want to thank all of those bloggers who influenced me and my writing and with whom I share many memories (even though we may no longer maintain contact): Viagoange2, anakinside1, amidalooine, Oboe-Wan, Kenobi Fan, Darth Hiram, Fan4Yrs, momof2youngpadawan, jedprincess77, jedi pug1, ewananhaydenfan, jedi melinda wolf, jedi master mina, granny wan, stooge. I am sure I am missing many others, but these are the bloggers I can recall at this point. Wherever life has taken us, we will always have Star Wars.
May the Force Be With You All!!